Leisure World
in Seal Beach is a gated, active living community in Seal Beach, California. It is a retirement community for seniors aged 55 and older and offers a wide range of amenities and activities for its residents.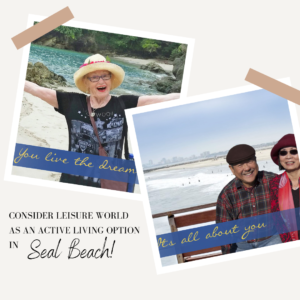 The community covers an area of 533 acres and features over 6,500 residential units, including condos and single-story attached units. The housing options vary in size and style, with options for one and two-bedroom units. Ownership varies from traditional ownership for the condos to co-op ownership for the majority of the other units.
Leisure World Seal Beach is designed to provide a self-contained environment, offering residents various recreational and social activities. The community has numerous facilities, such as golf courses, swimming pools, fitness centers, an outdoor theatre, churches of various denominations, clubhouses, a library, a post office, and even a medical center. The community also offers various clubs and organizations for residents to join, such as arts and crafts clubs, travel clubs, and social clubs. Additionally, organized events and activities take place throughout the year, such as holiday celebrations, concerts, and theater productions.
The community is situated within 2 miles of the beach, in a convenient location close to shopping, dining, and entertainment options, and it has easy access to major highways and airports. Free shuttles are available for transport to Main Street Seal Beach, grocery shopping, etc.
Overall, Leisure World Seal Beach offers a comfortable and engaging retirement lifestyle for seniors looking for a community-oriented environment.