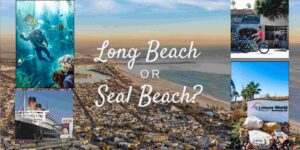 There is no better or worse.  It is about YOUR preference, YOUR choice!
Seal Beach and Long Beach are two adjoining coastal cities in Southern California, United States, and have some major differences for you to enjoy:
Long Beach is much larger than Seal Beach in terms of both land area and population. Long Beach has a population of over 460,000 people, while Seal Beach has a population of around 25,000 people.
Seal Beach is home to the San Gabriel River estuary, which provides wetlands north and south of the city and habitats for various species of birds and marine life.  Long Beach has a long shoreline that stretches for miles, while Seal Beach is also located on the coast but has a shorter coastline, immediately at the end of Main Street and Seal Beach' wooden pier.
Long Beach is a popular tourist destination with attractions such as the Queen Mary, the Aquarium of the Pacific, and the Long Beach Convention and Entertainment Center. In contrast, Seal Beach is a quieter, more quaint residential community, also known as Mayberry by the Beach, that attracts fewer tourists.
Seal Beach's
smaller economy is primarily based on small businesses and tourism. Long Beach, on the other hand, has a diverse economy, with major industries including shipping, oil, aerospace, and tourism
Long Beach
has a more urban feel with a bustling downtown area and a wide variety of eclectic neighborhoods with many different building styles, while Seal Beach is a smaller, more laid-back community with a strong sense of community and a small-town vibe.
Seal Beach
is part of the award-winning Los Alamitos School district and therefore attracts many young families. Seal Beach is also home to its 55+ active living community "Leisure World," where roughly 10,000 of Seal Beach' 25,000 inhabitants live.